Innovating for a Sustainable World
To meet the growing demand for sustainable foods and consumer products, Merrick provides bio solutions to innovators who are revolutionizing the way we produce food and consumer goods. We specialize in the development and implementation of bioprocessing systems, including sterile fermentation processes and downstream processing. Merrick provides a complete solution from conceptual design through commissioning for integration of the entire project.
Merrick is committed to sustainable design and construction practices to promote the triple bottom line of economic viability, social responsibility and environmental stewardship.
Providing Excellence in Sustainable Proteins, Foods, and Products
Merrick understands the process systems for our advanced proteins and sustainable products customers and works to provide efficient and reliable solutions.
Our integration of design and operational planning gives our clients practical expertise on all projects in the sustainable proteins, foods, and products industry:
Sustainable Foods and Proteins
Advanced Proteins for Consumable Products
Nutraceutical Production
Continuous and Batch Sterile Fermentation
Downstream Processing
Soil Amendments and Bio-Agricultural Products
Industry Best Practices and a Proven Approach
Merrick's robust, proven approach to bioprocessing project execution, perfected over 25 years, brings value to the advanced proteins and sustainable foods and products industry. Our approach includes a focus on Front End Loading—a best practice developed by the Construction Industry Institute (CII). Merrick's world class process team collaborates with our clients early on and throughout the project to ensure project needs are met and technology aligns with project goals. We employ industry best practices including Process Industry Practices (PIP), Current Good Manufacturing Practice (cGMP), Project Management Institute, (PMP), American Association of Cost Engineers (AACE), and others.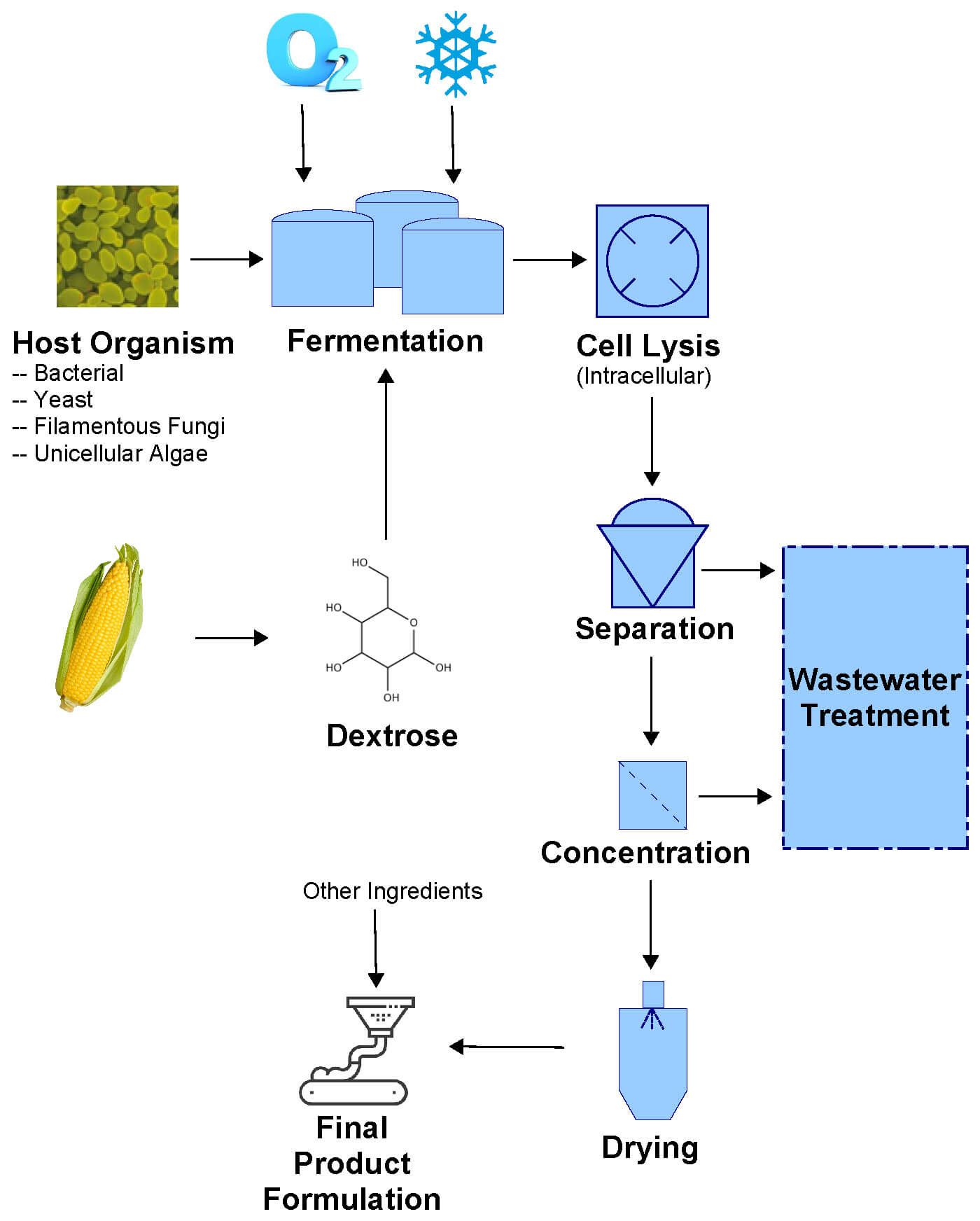 Quality and Regulatory Requirements
For sustainable foods and products, quality control requires flawless integration of process systems with the building and facility design, incorporating food safety and other regulatory requirements into the design. We design facilities to ensure cleanliness, process sterility, and environmental controls, including FSSC 22000 compliance. Merrick uses cGMP practices, including:
Hazard Analysis and Critical Control Points (HACCP) and Hazard Analysis and Risk-Based Preventive Controls (HARPC)
Developing Key Performance Indicators (KPIs) and incorporating them into the design and operation
Use of best practice codes and standards, such as the Process Industry Practices (PIP) hygienic standards.
Scale Up
Merrick has worked on many first-of-a-kind technology scale-up projects, from pilot design, through demonstration, and to commercial scale deployments. We understand the importance of building operational flexibility into the design for first-of-a- kind facilities to allow sufficient space for future additions and configuration changes. We also understand the constantly evolving nature of technology, and our design team works with our customers to develop solutions that allow for this flexibility. Our design and commissioning teams have the boots-on-the-ground experience to design a cost-effective and optimized facility that will meet your needs.